Madame Pivot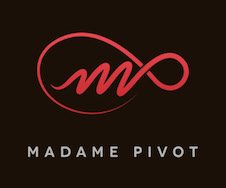 Madame Pivot is based in Tuscany, on the hills surrounding the beautiful city of Florence. It was founded in 2007 by Leonardo and Federica, two friends with a creative mind and a passion for tango.
Their idea was to produce MADE IN ITALY shoes specifically designed for this dance with impeccable technical features and a great design. The ancient tradition and quality of the Italian artisan craftsmanship had to be put at tango's service!
The research of the best materials, cooperation with the local producers, the choice of comfortable forms for the perfect fit and a great attention to detail have transformed their dream into a successful reality.
Today Madame Pivot offers a selection of hundreds of shoe styles for men and women, and it has become a well-loved and trusted brand for tango dancers in Italy and worldwide. Federica and Leonardo keep working every day to reciprocate that trust with creativity, passion and full dedication.
You can find only a reduced selection of Madame Pivot tango shoes in our webshop. At our local store in Munich we present more shoes by Madame Pivot. Furthermore you can order all Madame Pivot Shoes personally at our store, by phone or by e-mail
info@quality-for-dance.de